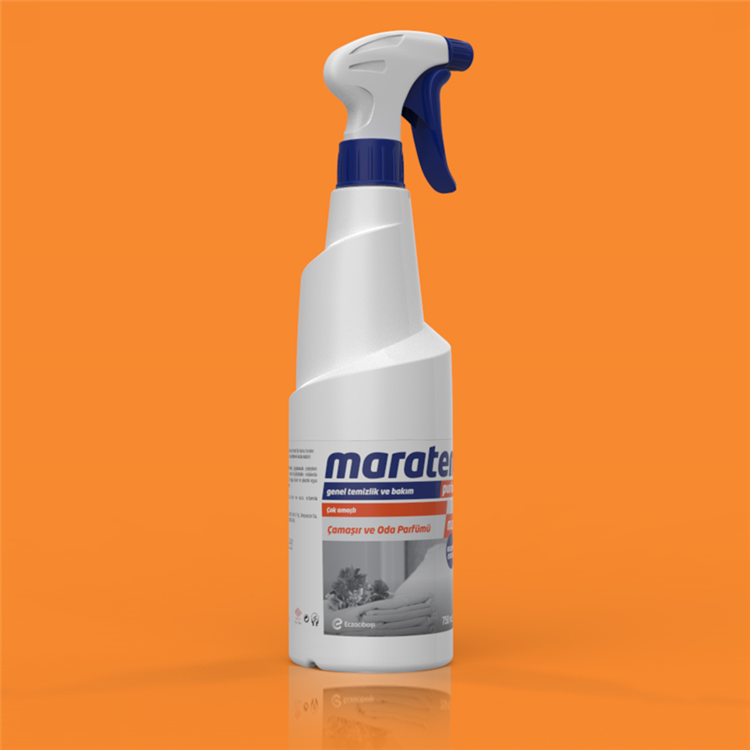 Maratem 750 mL. Bottle
Customer

Eczacıbaşı, Istanbul

Year

2018

Services

Industrial Design, Design Engineering
Brand and Packaging Design
Eczacıbaşı professional cleaning products are designed in accordance with the conditions required by daily intensive use and presented with new generation packages. We begin with market research and trend analysis, and then develop the brand and packaging design, sharpening the brand identity. As Arman Design, we ensure that the products are in harmony with your current and future customers.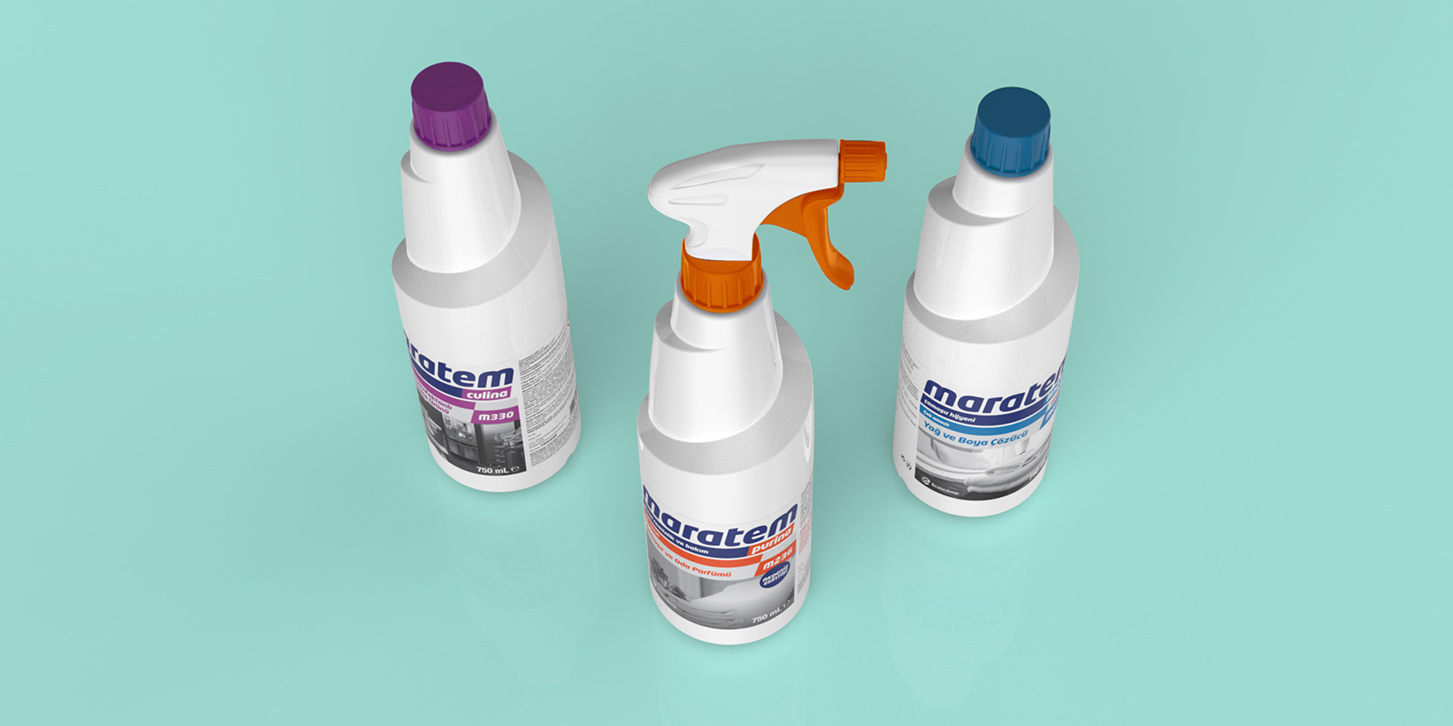 Maratem cleaning and care products for bathroom, kitchen and home are produced with Eczacıbaşı quality and sold in 750 mL packages. As Arman Design team, we carried out the packaging design of Maratem professional cleaning products. The spray-on bottle facilitates use for all kinds of users.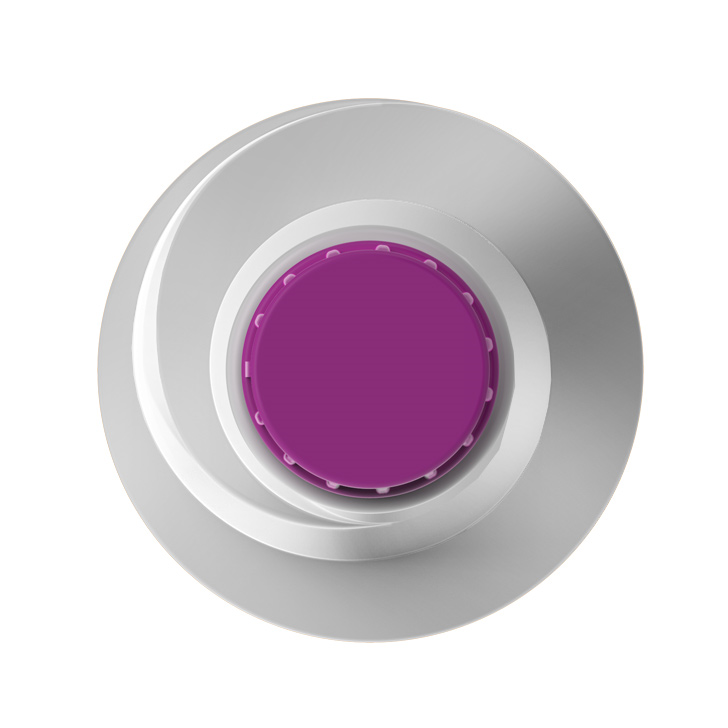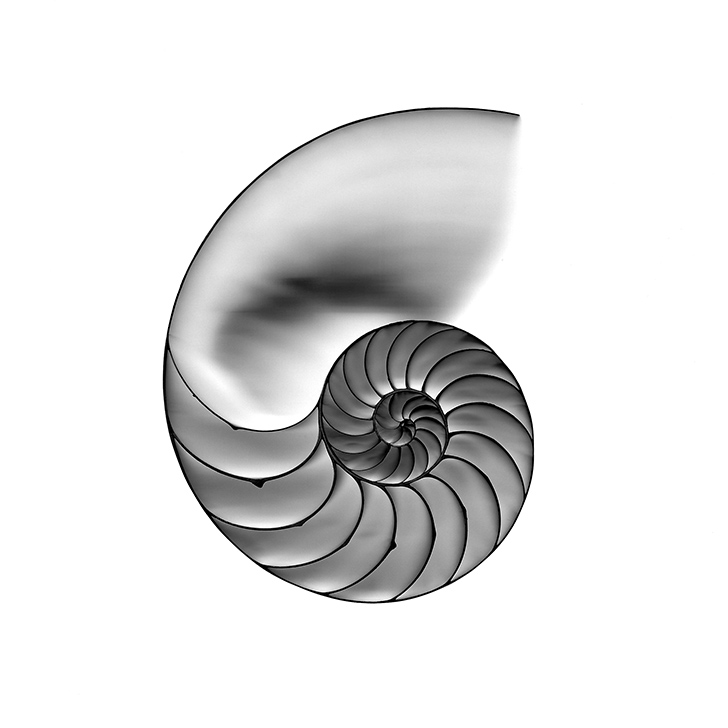 We got our inspiration from the sea shell with the golden ratio in the packaging design. As a design agency targeting excellence, we have also reflected this point of view on packaging.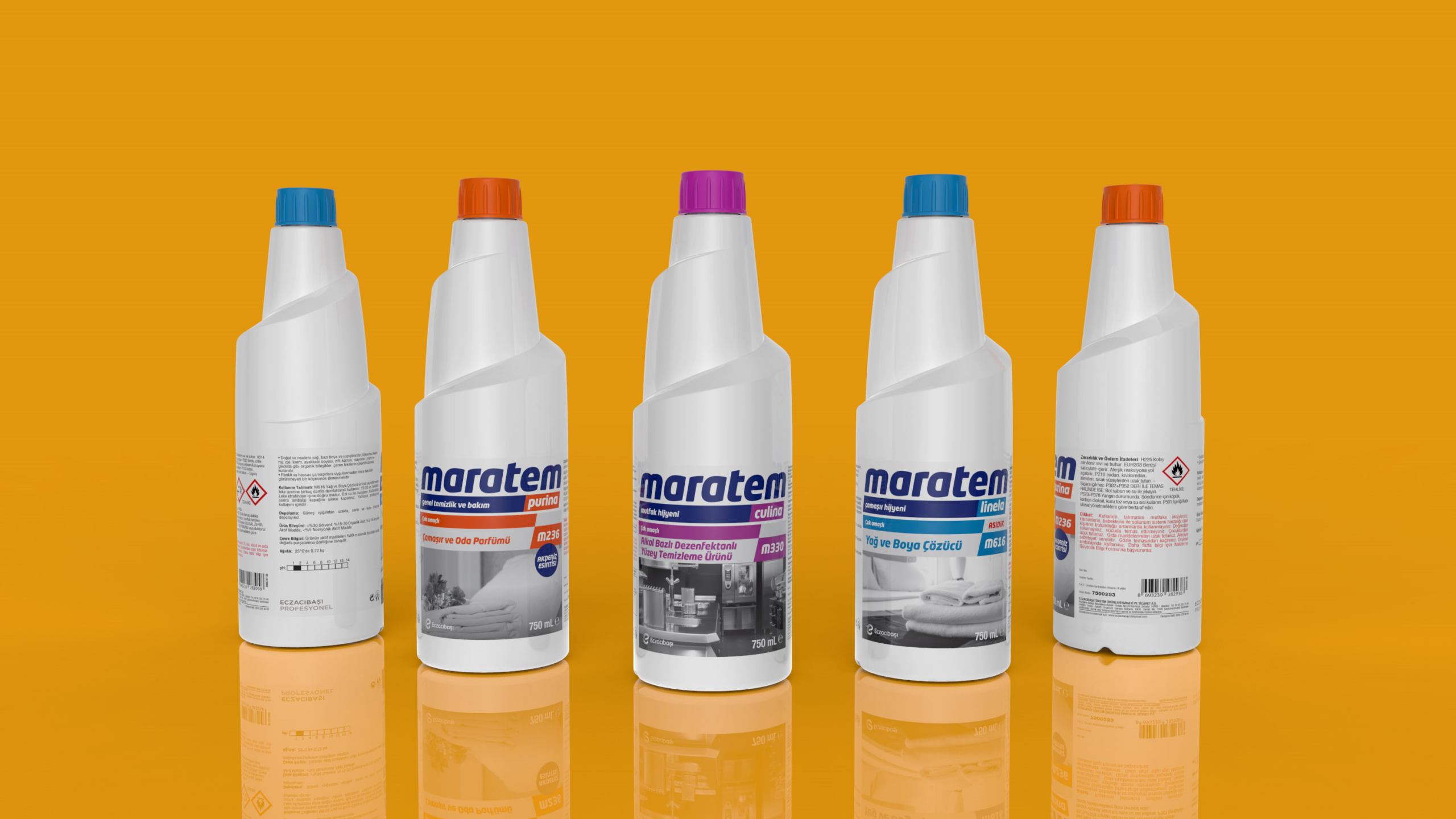 Packaging Design of Maratem Cleaning Products
Maratem Oil and Paint Solvent (M616) is perfect for removing stains containing organic compounds such as oil paint, glue, ballpoint pen, natural and mineral oil, lipstick, nail polish, cream, shoe paint, tar, mayonnaise, wax and chocolate. You should test this product before applying to colored and delicate fabrics.
Maratem Alcohol Based Disinfectant Surface Cleaning Product (M330) provides fast cleaning of counters and equipment of many areas, especially kitchens and food production areas. Thanks to its antibacterial formula, this product effectively disinfects surfaces. It can be used on surfaces that come into direct contact with food with ease.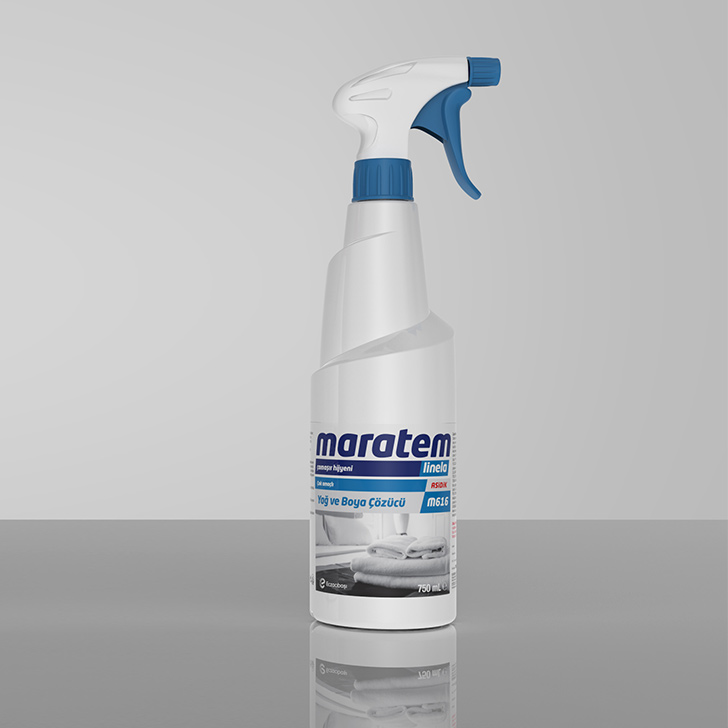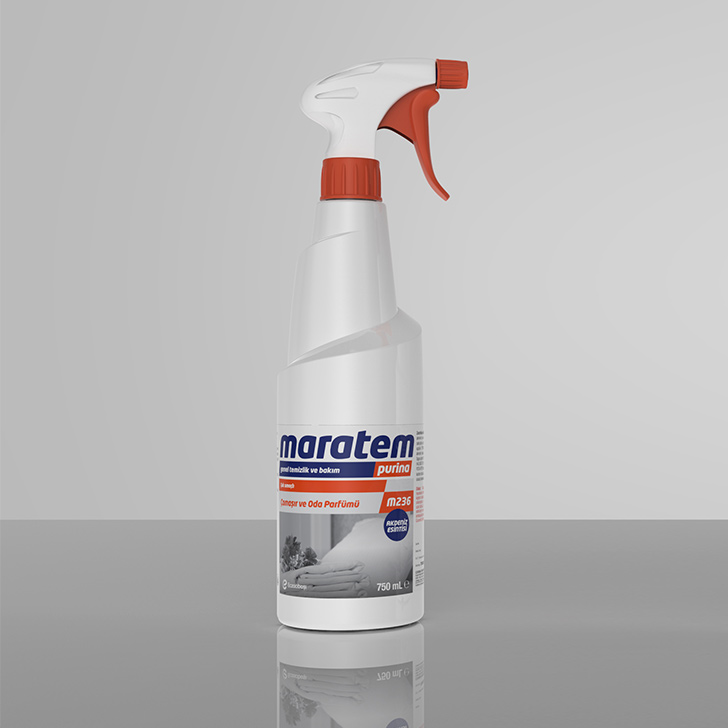 A Special Bottle Design
Maratem Laundry and Room Perfume removes unpleasant odors in places such as cafes, restaurants, hotels, offices, work spaces, homes, factories, and hospitals. It leaves a permanent and pleasant odor. When you spray it two or three times, it refreshes the entire room. It can be sprayed on fabrics as well due to its special bottle design and content. This laundry and room perfume is recommended only for professional use. When using this cleaning product, you can spray it directly on the surface to be applied, there is no need to dilute.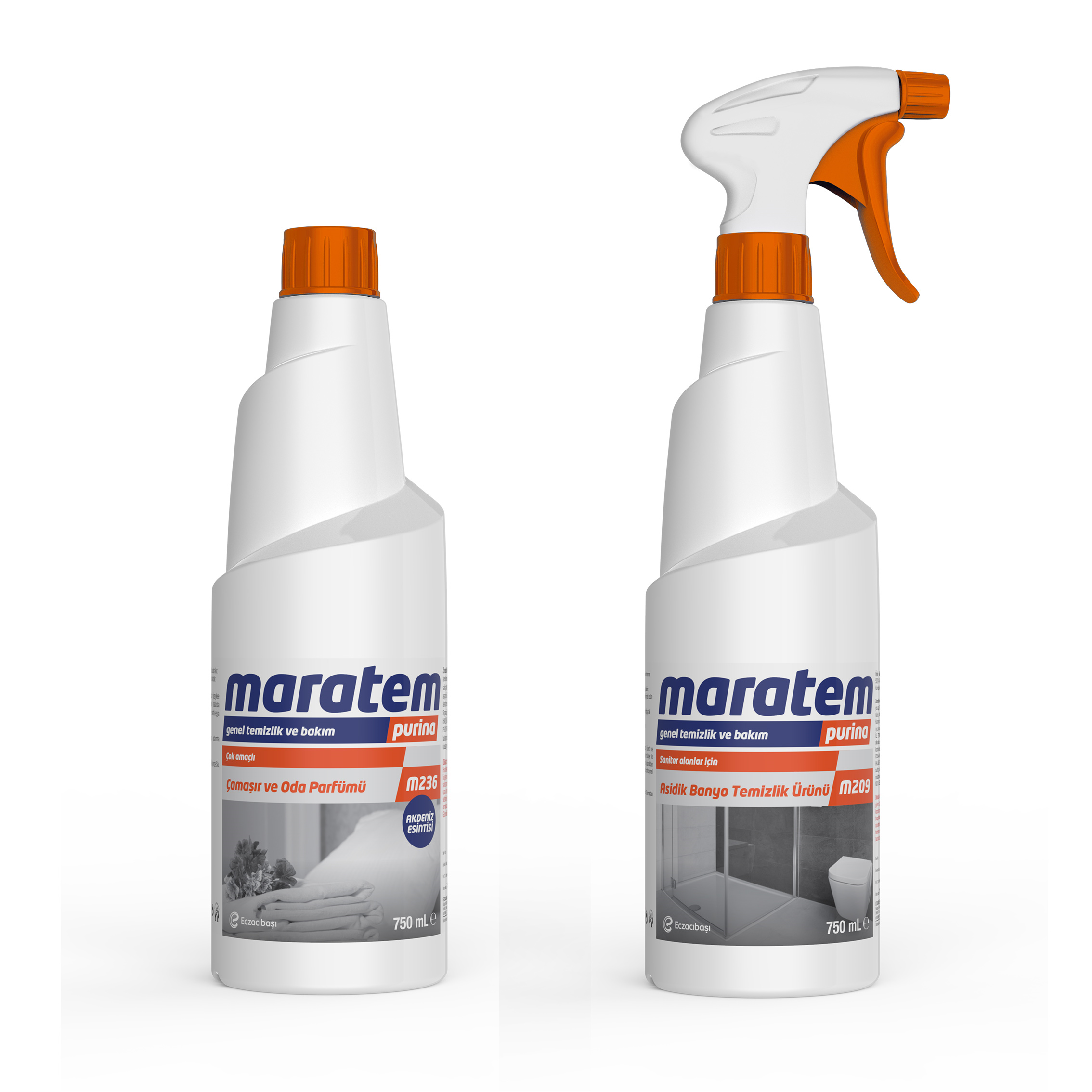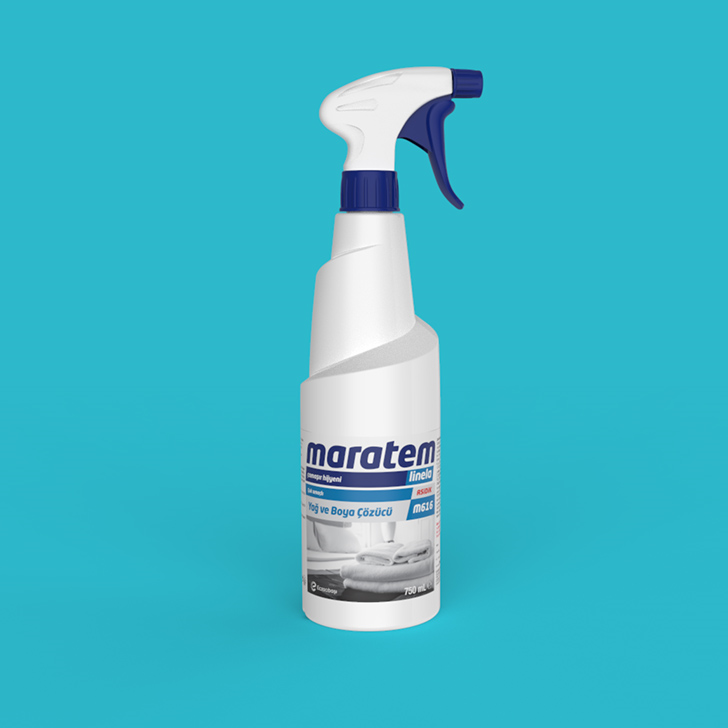 Maratem Acidic Bathroom Cleaning Product (M209) removes any lime residue in the cleaning areas. It provides hygiene in all areas except the inside of the toilet in the bathrooms and toilets of offices and work spaces, restaurants and cafes, factories, hospitals, and hotels. This product polishes the cleaned area as well as disinfects it.
You can use this product safely in many rooms, except for the inside of the toilet. This product provides hygiene while descaling and polishing the area. This product's spray bottle design provides comfort to its users and full protection on the applied surfaces. You can also clean vertical surfaces easily and effectively due to its thick structure. Because of its acidic content, it is not recommended to be used on stone surfaces such as marble. For all other surfaces, this product works perfectly. The surfaces dry easily, without a smudge.