Arman Design Celebrates Three Wins at iF Design Awards 2022
Glamorous awards ceremony in Berlin. The IF Design Award 2022 ceremony was held in Berlin's historical venue Friedrichstadt-Palast.
The international design scene celebrated the best iF designs of the year in Berlin: on 16 May 2022, the winners of the iF DESIGN AWARD 2022 were honored at a glittering awards ceremony. One of the world's most prestigious design awards, the iF DESIGN AWARD has been organized in Germany since 1953. The iF logo marks good design and is a badge of quality for consumers and the design community alike.

The iF DESIGN AWARD NIGHT 2022 attracted almost 1,500 guests from 36 countries to the legendary Friedrichstadt-Palast. At one of the most important international design events of the year, the "Who is Who of Design" met. An international 132-member independent jury of experts had a lot to do this year.
It was the biggest iF DESIGN AWARD ever: Nearly 11,000 submissions from 57 nations were evaluated in a two-stage jury process.
The iF DESIGN AWARD was decided in the following disciplines: Product design, Communication design, Packaging design, Service design, Architecture, Interior Architecture, User Experience (UX), User Interface (UI), Professional concept

Arman Design won three awards
Arman Design is 3 awards winners of this year's iF DESIGN AWARD, the world-renowned design prize. The winning products: Redon BEST CNC Milling Machine and R-One Dental Machines won in the industry category. Also, 3E The Solution. Gentle Power Home Cleaning & Sanitation Set won in the household category.  Each year, the world's oldest independent design organization, Hannover-based iF International Forum Design GmbH, organizes the iF DESIGN AWARD.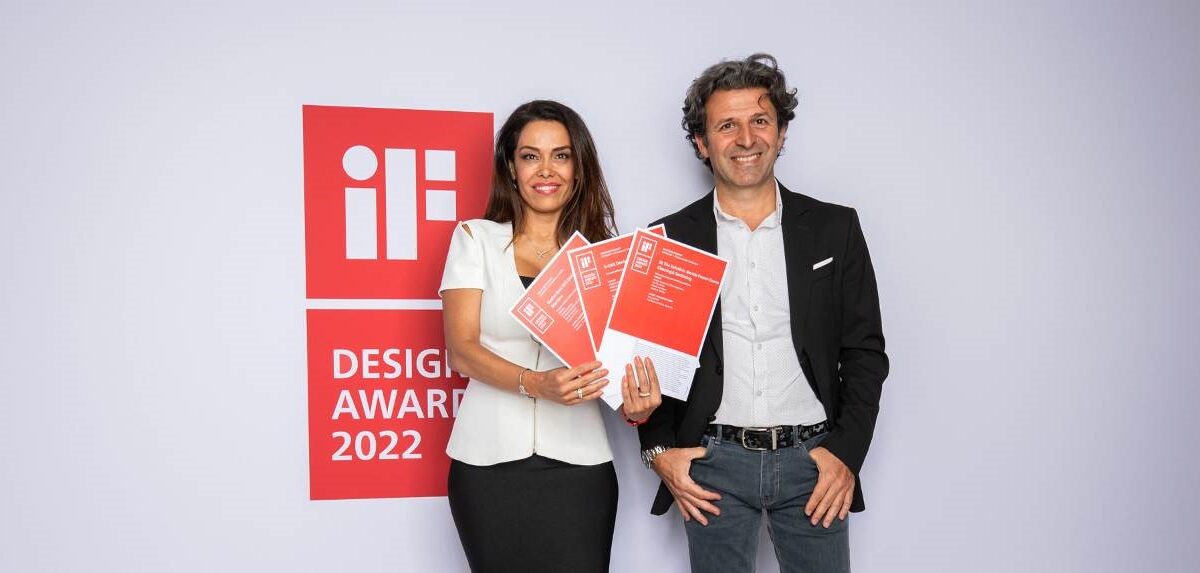 iF CEO Uwe Cremering: 'We are extremely happy that we could welcome so many guests to our awards ceremony in these extraordinary times. Especially that our international award winners did not shy away from the long and sometimes difficult journey to pick up their iF DESIGN AWARD in person and celebrate with us! Already the iF Final Jury round at the end of March in Berlin's Wilhelm Hallen, which was attended by our jurors, encouraged us to bring the global design community together again. The gala was a crowning conclusion to the biggest iF DESIGN AWARD ever. We would like to thank our participants once again for the many exciting submissions – and are already looking forward to the new round, the iF DESIGN AWARD 2023, which has already started online!'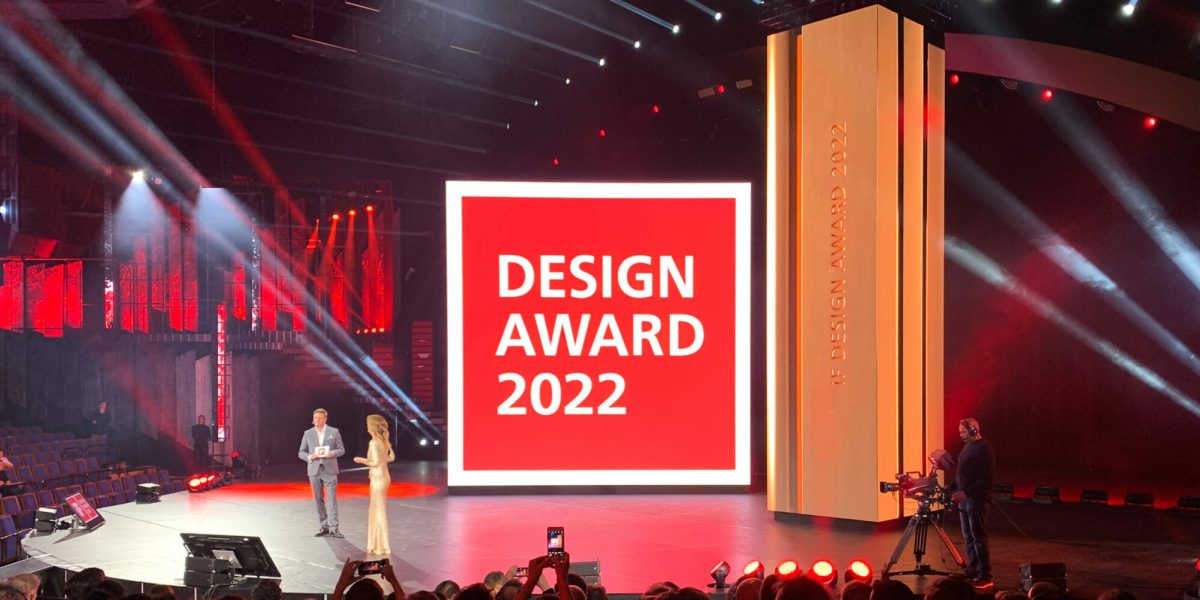 About the iF DESIGN AWARD 
Since 1954, the iF Design Award has been recognized as an arbiter of quality for excellent design. The iF Design brand is renowned worldwide for outstanding design services, and the iF Design Award is one of the most important design prizes in the world. It honors design achievements in all disciplines: product, packaging, communication and service design, architecture and interior architecture as well as professional concept, user experience (UX) and user interface (UI). All award-winning entries are featured on www.ifdesign.com and published in the iF Design App.
3E The Solution Gentle Power Home Cleaning & Sanitation Set.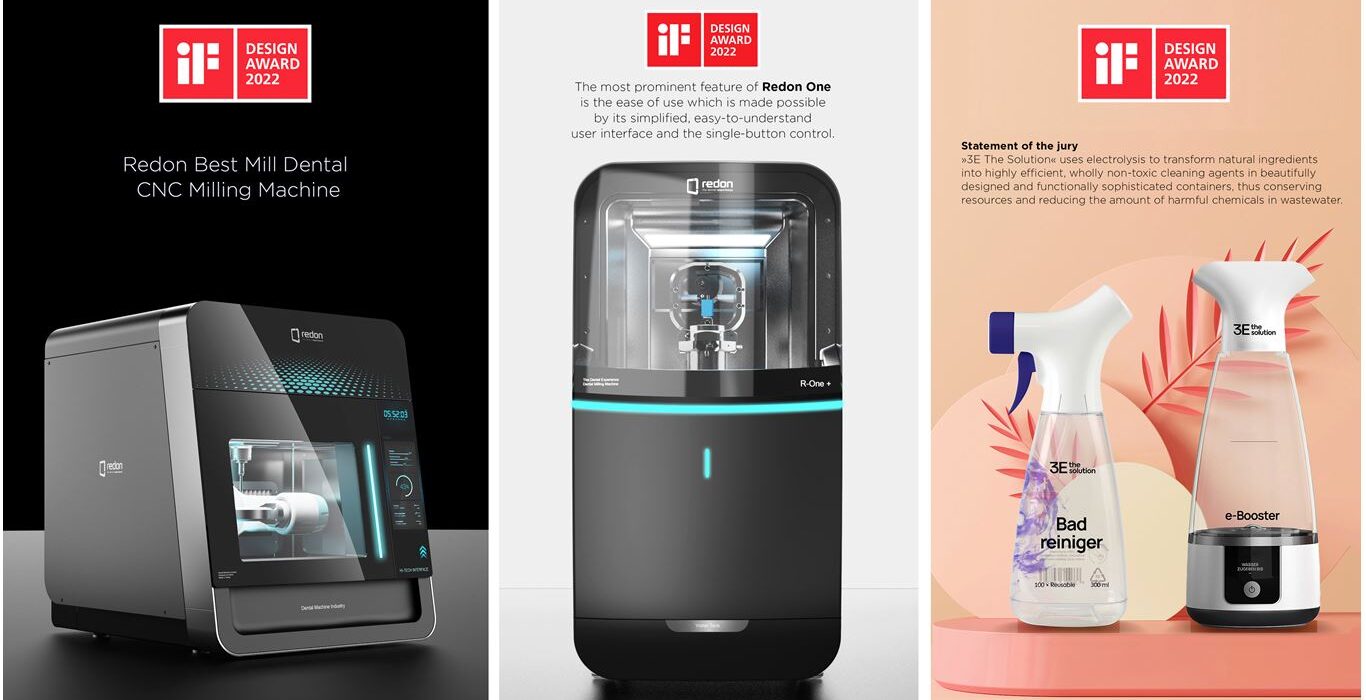 Environmentaliast and sustainable solutions from "3E The Solution"
3E The Solution« is a new ecological home cleaning concept by using the power of electricity to boost natural ingredients into powerful detergents. The concept consists of 3 concentrated, vegan+plant-based detergents for all application areas+reusable spray bottles. Via electrolysis the diluted solution is transformed into a super-powerful, yet completely non-toxic cleaning product. That reduces consumption of alcohol, bleach + harsh chemicals as well as energy needed in transporting + storing
Award Winning Redon Products
Redon One is a state-of-the-art milling device that can be used for milling of special materials which are used in production of dental prostheses. It enables any dentists to quickly produce quality dental prostheses at the convenience of their own clinics without needing detailed technical information or industrial tools and equipment. All mechanical parts have been optimized to achieve a highly practical and compact machine with a small footprint which makes it suitable for use on a table. With an innovative product design, it re-defines machine-user interaction. A multi-block holder system with a 6-block capacity, which can process multiple pieces of raw materials such as glass, ceramic and premill at the same time, has been developed. The automated tool changing mechanism and the water tank allow the machine to automatically work without any operator intervention. Thanks to its high-tech equipment, it is ideal for producing precise, quick and quality results. The single-button operation simplifies operation, and the powerful spindle and high-capacity control unit enable the machine to meet requirements of any applications in the dental industry.
Redon Best Mill is a compact milling machine intended for use by dentists and dental technicians. This state-of-the-art technical equipment is suitable for use in clinical settings. It feels and looks like office equipment, offering a user-friendly experience. It allows dentists and dental technicians to quickly produce quality dental prostheses at the convenience of their own clinics without requiring detailed technical information. With its large display screen, ergonomic design and user-friendly interface, it offers an innovative way to easily complete even the most complex dental applications
Redon tasarımları Rafine biçim dili, ergonomik yapısı, kaliteli malzeme özellikleri ile şiş merkezlerinin öncelikli tercihi haline gelmektedir.
About The Arman Design
Arman Design is a comprehensive design, development and engineering company. Our interdisciplinary experts, designers and engineers use industry knowledge, modern technologies and business experience to produce creative and innovative solutions.
Our designs are based on research data and shaped by empathy and logic/rationale. We innovate with client requirements, target market expectations and user experience in mind. Our solutions range from packaging to medical devices including electronics, furniture, lighting and kitchenware designs.
Innovation strategy is the keystone of successful companies and is indispensable for companies seeking long-term competitive advantage on the market. An innovation strategy overcomes market barriers by adhering to a coherent, mutually reinforcing policy and behavior aimed towards a competitive goal. Good innovation strategies encourage unity among various groups within an organization, clarify goals and priorities, help focus efforts around the same plans of action.
For more information, please contact >